Commercial
Sales are the lifeblood of the business. We've a number of specialist teams who play a crucial role in supporting our sales function; driving productivity and enabling consistently high levels of service to internal and external customers.
We look for applicants with a wide-range of skill sets and experience. From those just starting out in their careers to more experienced professionals, we've opportunities in our Bid Team, Marketing & Communications, Sales Support, Microsoft and Vendor Alliance functions. All teams are motivated to improve our efficiency, knowledge and ability to meet our challenges of today and grasp the opportunities of tomorrow.
Learning & Development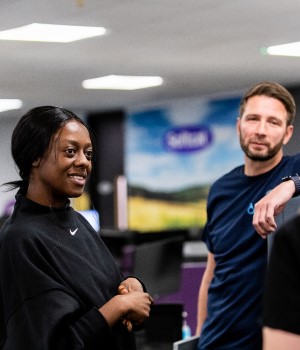 10 day on-boarding
Start off with an overview of our business and insight into key markets, customer sectors and competitors, as well as training on internal systems and processes. Depending on your experience and department, you'll attend workshops to build your skills in specific areas.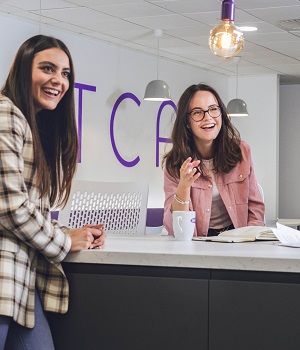 On-the-job training
We'll build a tailored progression plan with you, showing how your role could grow and outlining additional training that's available at every step.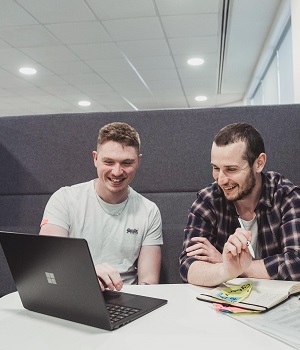 Coaching
Every Softcatter is welcome to use our coaching program. We'll work with you to identify development areas throughout your career, and proactively offer opportunities for you to expand your skills.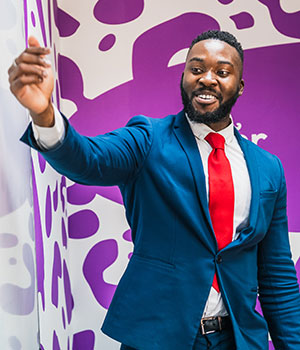 Tailored training and support
Our Training and Development team are always on hand to help you expand your skills, too. Whether it's time management or communications training, leadership or role-specific training, we give you every opportunity to grow.
Career Progression
From your very first day we'll help you build a career you're proud of, whether that means progressing vertically or developing your broader business skills.
Commercial Career Areas
Learn more about working in our Commercial function at Softcat:
It's a dynamic and growing team where one day you could be assisting someone completing their first bid for themselves and the next, being part of a team responding to a complex bid potentially over multiple weeks; for an Enterprise sized, multi-million £ opportunity! Typical roles include Bid Coordinator, Executive and Writers.
Become part of a diverse team and help us project the right messages in the right way. You'll provide the tools to help us succeed; driving brand awareness and our reputation as an attractive employer, and as the number one partner of choice for vendors and customers alike. Typical roles include Partner Marketing, Internal and External Communications, Sales Enablement and Events and Digital.
Being part of the Microsoft team allows you to work closely with our sales teams to support customers throughout their entire Microsoft journey. You become the expert in all things Microsoft, positioning the benefits and ensuring customers get the best commercial agreements possible. Our relationship with Microsoft spans over three decades and they're our largest partner, allowing us to offer unrivalled knowledge of solutions. Typical roles include Microsoft Sales Executives, Sales Specialists, Customer Success Managers or Operations Executives.
As part of the Partner Management team, you'll manage the relationships with all the Partners that we use for Services whether its Professional Services, Support Services or Managed Services. We have four simple areas to our team - Onboard, Manage, Engage & Promote. Our team Onboard potential new partners, manage existing partners, engage partners with the relevant stakeholders within Softcat and promote the Services they offer our customers. Typical roles include Services Partner Coordinator and Services Partner Manager.
Being in Sales Support means that you get to assist with managing the sales process alongside the Account Manager and Specialist from the initial conversations around understanding the customer requirement, to ensuring that internal sales systems and processes are managed/organised efficiently and accurately. Typical roles include Sales and Senior Sales Support Executive and Internal Account Manager.
As part of the Vendor Alliance team, you'll be responsible for the day-to-day relationship management and engagement of a select number of Softcat's top vendor partners – some of the most successful and recognised names in technology. The number of supplier awards we win from these businesses shows how seriously we are taken as a vital and valued partner. Typical roles include Alliance Managers , Business Managers and Vendor Sales Specialists.
Rewards & Benefits

Future planning
Contributory pension scheme, life assurance and a company share scheme (after qualifying periods).

Health benefits
Free eye tests, on-site massage therapist, and after a qualifying period there's private health and dental care.

Benefits to suit you
Choose the benefits and perks you want, from family/child friendly support to a wide range of personalised benefits and discounts available via our dedicated portal, Perklife.

Rewarding performance
Recognition awards and incentive schemes to reward personal achievements.

Bonus potential
All roles come with a commission and/or bonus plan to help you earn a little more than just your basic, even in a non-sales position.

Family friendly
We've held family fun days and aim to support parents and returners to work.

'You' time
Flexible start/finish times, duvet days, a day off for your birthday and Christmas
Latest Commercial jobs
Multinational Operations Executive

Multinational - Marlow, Birmingham, Bristol, Glasgow, Leeds, Manchester

Apply Now

Services Sales Support Executive

Specialist Sales Support - Manchester, Birmingham, Bristol, Glasgow, Leeds, Marlow

Apply Now

Solutions Customer Success Manager - Entry Level

Customer Experience - Marlow, Birmingham, Bristol, Leeds, Manchester, South Coast

Apply Now

Partner Experience Support Executive

Public Sector Sales Support - Leeds, Manchester

Apply Now

Microsoft Azure Executive

Cloud Alliances - Marlow, Birmingham, Bristol, Leeds, Manchester, South Coast

Apply Now

Social Media Manager (B2B)

Marketing - Marlow, Bristol

Apply Now

VMware Alliance Executive

Vendor Alliances - Marlow, Bristol, Manchester

Apply Now

Bid Manager

Business Development - Marlow, Birmingham, Bristol, Glasgow, Leeds, Manchester, South Coast

Apply Now