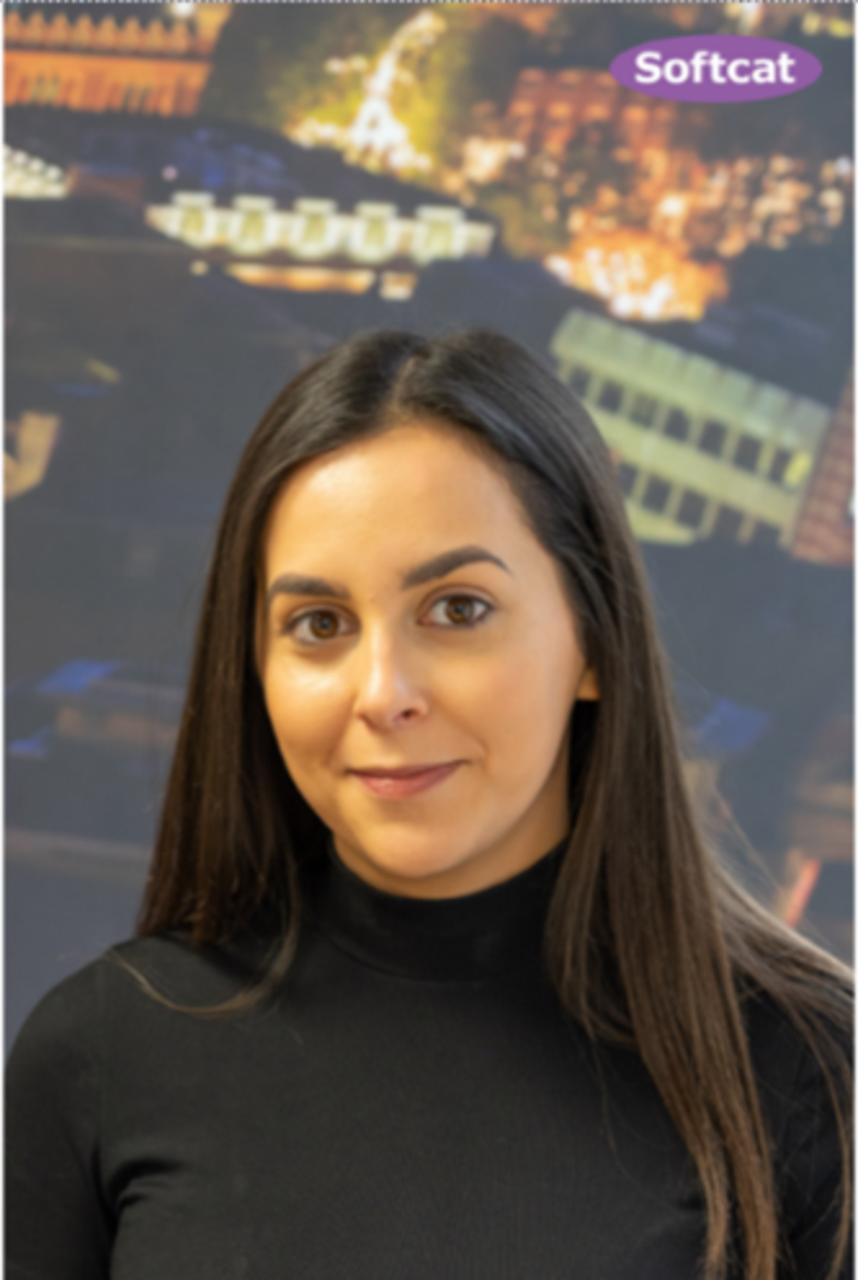 #MyLifeAtSoftcat – Stacey Tawadrous, Microsoft Sales Specialist
Tell us about yourself?
Before starting at Softcat, I studied Business Information Systems at Cork Institute of Technology in Cork, Ireland. This course was a mix of Business subjects and IT, as this was the industry I was aiming to start my career in.
I had worked as a hostess in Luigi Malones Restaurant at the weekends (and any spare minute in between) since I was 16. It's safe to say this was exhausting but I believe it to have shaped my personality for the better. I can definitely say it prepared me for the real world of working.


What is your role?
I sit on the Microsoft Team working as a Product and Licensing specialist for SMB customers.
My day to day consists of advising customers how to transform their IT infrastructure by utilizing various Microsoft software. I deal with mostly small to medium business customers who are looking to make a transition to the cloud. I identify their requirements and create a guided solution for them.
As part of the Microsoft team, we work closely with Microsoft to ensure organisations remain licensing compliant. These efforts have been recognised by Microsoft and Softcat have been given several awards, most recently being awarded M365 and Surface Partner of the year.
Besides assisting customers, I have been given the responsibility of training and mentoring new starts to the Microsoft SMB team. It's given me a real chance to grow my confidence and help support others in their career development.
What drew you to apply for Softcat?
When you finish university, I feel like you have an idea of what direction you want to go in, but not an exact role. I remember the words in the job description 'Build your own career' which is what attracted me to apply.
Location was also an important factor for me as I was making the move from Ireland. With offices in multiple locations and the opportunity to work from any of these offices, it suited my personal circumstances and allowed real flexibility The chance to travel between offices frequently was another attraction.
The final factor that stuck out to me was the working environment. Coming over from Ireland was a big change for me and the open, welcoming buzz of Softcat really drew me in.
Tell us about your experience during your recruitment process?
I originally applied for a Corporate Sales Account Manager role. The steps in the recruitment process were a mixture of online assessments, a video interview, an assessment centre and a face-to-face interview. Shortly after the assessment centre I was called for an interview for a Microsoft Specialist role rather than the Corporate Account Manager role I had originally applied for.
Softcat saw that although I had applied for the Account Manager role, this role was better suited to me and looking back this was the best decision as this seems to be the perfect position for me. It just shows that you can apply for a specific position but, if Softcat see other valuable traits in you, rather than bend you to fit the role, they will find a role that fits you.
Knowing what you know now, what advice would you give yourself at the start of the recruitment process?
Just be yourself as Softcat care more about your personality. How you interact with people and react to situations is a key factor.
Don't think "'What would they want me to say?'. Your personal opinion is far more important.
Have an idea of what you require from your career and be sure to express that, this way both parties know what to expect.
How would you describe the Softcat culture?
You can see that Softcat prides itself on its culture and, they have a reason to. As someone who would consider themselves a bit more introverted, there is always a sense of community and belonging being in and out the office. Softcat has helped me come a bit more out of my shell and learn that everyone deserves a voice. It has helped build my confidence and see the importance of Women in Business.
If I could summarize Softcat's culture in 3 words I would say – Fun, Free and Empowering.
How has your Softcat experience been so far?
Since starting at Softcat I have constantly been given new opportunities and new projects to work on to grow my skills, get more recognition and define my career path. I have recorded and published a Microsoft Teams demo mini-series, delivered training sessions company-wide, facilitated focus days and joined new teams – the array of opportunities here is endless.
I may sound a tad biased but working within the Microsoft team has really helped me progress.
I was made to feel welcome the minute I stepped through the door. A year later (after thousands of questions, shadowing, and training sessions) I feel supported as ever and can see a great future career with Softcat.
Most notably, there is a flexible working from home option. There is an encouragement to take care of your mental health. I have the option to work from home if i need to take a break from commuting which for me is about 3 hours each day.
What would be your 'Top Tip' for success within Softcat?
Be open to new opportunities and ask for more responsibility where you can handle it
Look for areas to improve with your ideas and make yourself stand out